20 Feb

We're all going on a Co-working holiday – Workaholics Welcome – Lauren Razavi

If the idea of being unplugged while you're away terrifies you, perhaps you need to relax on a 'co-working holiday', a new trend where workspace and Wi-Fi are all part of the package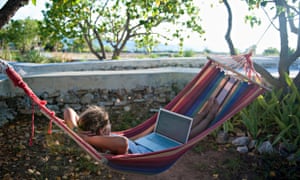 In the age of smartphones, social media and cheap international calls, the perfect holiday for a growing number of people involves taking a complete break from the digital world. But a new travel phenomenon turns this concept on its head. It's called the "co-working holiday".
The concept is simple: solo travellers visit a beautiful location, and work in a shared space while they're there. Though it might go against the very definition of what a holiday is, these breaks are proving attractive to those who don't like the idea of switching off while abroad. Location-independent bloggers and early-career entrepreneurs (especially in the tech industry) are prime candidates for co-working holidays, according one such operator, Livit Spaces in Bali.
"We offer entrepreneurs a space where they can focus on their work, and immerse themselves in a super-productive environment with a network of like-minded, passionate people," says community manager Nick Martin.
His Indonesia-based company offers all-inclusive packages with accommodation, meals, daily cleaning, office space, networking events and excursions from around £48 a night.
A network called Coworking Visa lists 450 independent co-working spaces across the world, including 15 in the UK. An increasing number of their members are starting to offer residential options in addition to on-the-move office space for those working and travelling. Their clients include writers, bloggers, artists and designers as well as businesspeople and entrepreneurs.
Bethany Wrede Peterson, founder of consultancy and events club The Rocket Factory, is currently on her first co-working holiday in Bali. "As an entrepreneur, you never really switch off, no matter where you are," she says. "But I discipline myself during the week so I can take weekends to hit the beach, explore the island or chill out. I still feel pressure here, but it's hard to be too stressed when you're working barefoot on a beanbag in the sun, a beautiful rice field view just beyond your laptop screen. Balance is an all-too-elusive feeling, and I've found it here."
Some co-working holidays, such as US-based Hacker Paradise, which launched in summer 2014, run for a specific period annually, offering structured packages. Last year this company – which despite its name is open to artists and creatives as well as tech developers – was based at a hotel in Costa Rica. This year it is spending a month each in Vietnam, Bali, Thailand and the Philippines. Travellers can join for a week or up to three months. A month's stay costs from £400 in a shared room, or £1,000 for a private suite. Breakfast, dinner, 3G SIM cards and office space with Wi-Fi are included.
Other operators such as Sun Desk, based in Taghazout, a surf haven in southern Morocco, and 47 Ronin, in a residential area of Kyoto, Japan, take bookings throughout the year, charging around £16 a night for accommodation, workspace and breakfast.
Surf Office offers co-working stays in Santa Cruz, California, and the Canary Islands, and is planning two new destinations this year. A private room by the beach in Santa Cruz will set you back £62 a night, including on-site office space, a shared kitchen and weekly lifts into San Francisco, as well as yoga sessions and supplies of water and organic coffee.
In the UK, 4.6 million people, or 15% of the workforce, are now self-employed – the highest number since records began. While co-working holidays won't be for everyone, the need for alternatives to traditional holidays may well see growth that matches the rise of self-employment. But whether that's a good thing for overburdened modern workers remains to be seen.
Spark Comments
We might just need to look at talking to CoWorking Visa to share our beautiful Spark CoWork space and our beautiful Port Stephens location with everyone. You see – we now offer the best of both worlds! If you're planning your next break to Port Stephens but can't escape the demands of the office – don't worry with our super fast internet speeds and creature comforts you expect in an office, you can come in and get your work done and still have time to explore all of the amazing things to see and do in and around Port Stephens! https://www.portstephens.org.au/see-and-do/attractions-and-activities/things-to-do/
Read original article here
https://www.theguardian.com/travel/2015/jan/28/co-working-holidays-new-travel-trend